High Quality Photo Printing Make Great Gifts & Lasting Memories
Need something unique? Our premium printed photo panels & tumblers make a lasting memory or the ideal gift for that special someone. Metal, Glass, Hardboard photo panels.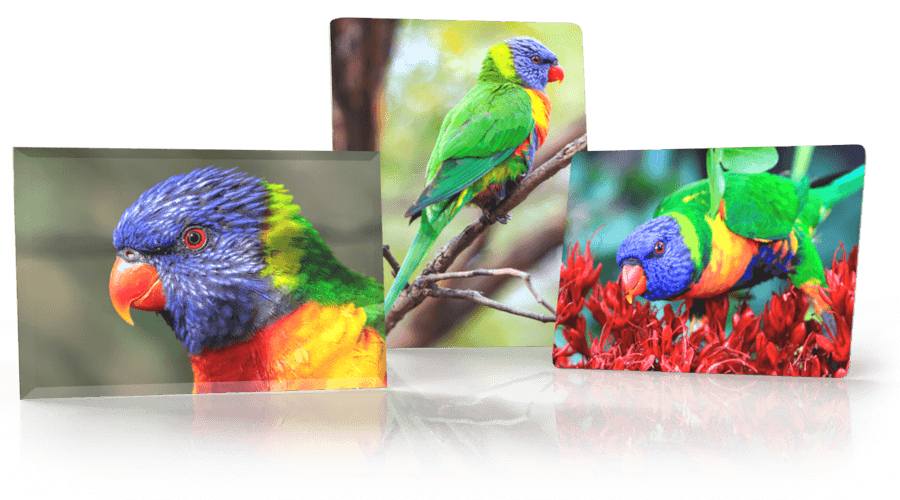 What is a Metal Photo Panel Print?
Metal artwork has been around since ancient times as a form of self-expression.  Metal prints, also known as metallic prints, are modern, high-definition art pieces made of a sleek metal panel, layered with any picture of your choosing. Make your most cherished memories into metal art workpieces for your home or office. These stunning, luminous prints can be hung in a living room, bedroom, den or any another favorite place in your home.  They make great gifting options as they are resistant to fading, moisture, and scratching.  Metal prints bring photos to life and often make for great conversation pieces.
These eye-popping, exquisite metal prints will be a great way to showcase your best personal photos in colorful hues.  Printing pictures on metal gives your artwork a striking industrial, modern touch to your walls and they do not require frames.  Installation is a breeze, with a handy hanger attaching to the back or display on a stand.  Either way, these metal photo prints will be a work of art for years to come.
Why Choose Metal Photo Panel Print Prints?
Metal art offers some unique benefits.  It uses a frameless design, giving photos a clean, fresh, modern look.  You do not need to deal with framing or matting the piece: the art is ready the moment it arrives. Metal photo panels have an immense longevity leaving your photo look the same 20 years from now.
In addition to the prints' longevity, they are scratch-resistant and waterproof. That is right!  You can hang it in your kitchen, bathroom, playroom, or even outdoors, without a worry that it will be damaged or getting scratched. You can keep peace of mind knowing your artwork will remain pristine over time. In terms of how your photograph will look, you may be pleasantly surprised by how brilliantly it displays on a metal print. Because the image is infused into the metal sheet, not on top of it, it becomes clearer and more radiant. In other words, this process takes your image and magnifies its magnificent beauty.
When deciding on your metal photo print, you can choose from a few options below for your surface finish:
Semi-Glossy – Provides smooth, clear photographic image while minimizing reflectivity.  Recommended for images with dark color.
Glossy – Tends to give the image a more vibrant, crisp appearance.
Matte – Offers a more subdued, muted look.
No matter the surface finish you choose, metal photo prints experience less glare than framed artwork. With metal prints, there is no glass for the light's reflection to interfere with. It is still recommended that you not place your metal print in direct sunlight, in order to reduce any fading that may possibly occur.
Things to Consider with Metal Prints
The longevity and brilliance of metal prints make them an increasingly popular choice for home and office decor.  Some things to consider when selecting metal prints are as follows:
• Photo should be of the highest resolution. This allows for your image to appear crisp and professional.
• Since the image is printed directly onto the material, a metal print becomes a permanent art piece. Unlike a traditional glass photo frame, you will not be able to swap out pictures.  Be selective in choosing your photo—one that you will appreciate for years to come.
• The stunning appearance of metal prints lifts nearly any photo from ordinary to extraordinary! If you are looking for an art piece with longevity, style, and personal meaning, consider shopping with us and designing your own work of art.  Just head on over to our SHOP button, do not delay!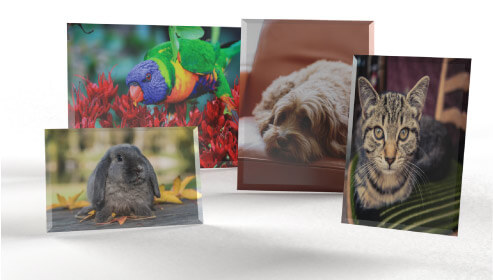 What is a Glass Photo Print?
Interior designing is changing, but the focus on wall art is growing with strength.  Glass photo panels display your photograph in a unique fashion with a personal touch.  The smooth, weather-proof material provides longevity for your memories.  Makes your photos a focal point without any frames to distract from your artwork.  Polished glass edges ensure that your image looks amazing from every angle and smooth to the touch.  Glass photo printing creates long-lasting, durable display options, Glass photo panels are waterproof, allowing to be displayed in any space.  Fancy up your kitchen, sunroom or bathroom without worrying about moisture damage.
Why Glass Photo Panel Prints?
Glass photo panel prints reflect light.  Whether its sunlight or artificial light, your photo art will definitely sparkle.  Showcase your most precious memories or create an elegant gift for weddings, anniversaries and/or birthdays.  The unexpected elegance of a glass photo printed items makes the perfect gift for newlyweds, grandparents, teachers, friends and family.  You can turn your favorite memory into long lasting prints to display for years to come.  Remember our favorite photo of your little ones?  Turn those into thoughtful, beautiful gifts for Grandma and Grandpa with a contemporary day twist.  Display glass print on shelves, on the wall, at your home or office.  Wherever you choose your glass print will be sure to shine!
Things to Consider with Glass Print
Glass prints are easy to wipe free of dust.  A wet cloth usually does the trick, but a glass surface cleaner will provide a more polished look.  Due to its ability to resist water, glass prints are the perfect way to introduce art into rooms that often experience moisture.  Yes, that includes bathrooms, laundry rooms, outdoor spaces that are humid or attract moisture.  If you are looking for an art piece with longevity, style, and personal meaning, consider shopping with us and designing your own work of art.  Just head on over to our SHOP button, do not delay!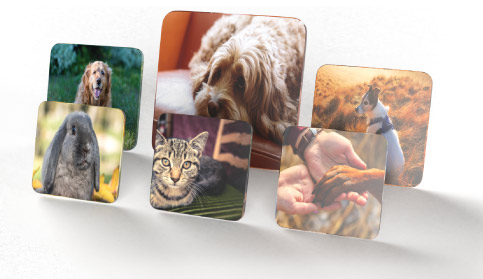 What is a Hardboard Printed Photo Panel?
One of our favorite photo panel options. Chromaluxe™ hardboard is an engineered wood product made by breaking down hardwood or softwood residuals into wood fibers, combined with wax or resin binder.  They are formed into panels using high temperature and pressure.  These prints provide a stylish, self-standing way to display your photographs.
Why Hardboard Photo Prints?
Chromaluxe hardboard photo prints provide exciting personalized home décor options.  These hardboard prints feature an advanced highly durable, extremely smooth UV resistant coating that displays brilliant color reproduction with exceptional image clarity.  These are perfect for family photos, wedding photos, graduation photos, pet photos or even your personal artwork.  Display them on table tops, shelves, desks or even on the wall.
Things to Consider with Hardboard Prints
Chromaluxe hardboard prints are resistant to yellowing and climate damage.  Prints made to last a lifetime.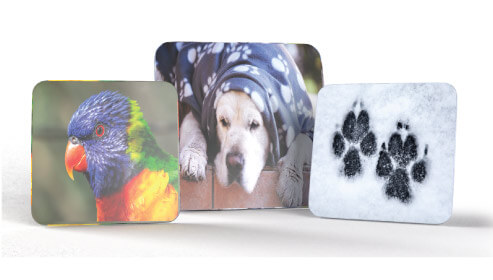 What is a Ceramic Tile Print?
Ceramic tile prints are perfect as wall art, magnets, trivets, and coasters, and are also suitable for tile mosaics installed with mortar and grout.
Why Ceramic Tile Prints?
Ceramic tile prints are beautiful and functional pieces of artwork, which can be displayed to complement your home décor.
Things to Consider with Ceramic Tile Print
Ceramic tile prints may be used outdoors, but should be kept out of direct sunlight to avoid fading.  While ceramic tiles can be displayed in wet environments, it is recommended to kept clean to avoid water signs. Avoid abrasive clothes or cleaners as they could possible scratch the service.  Images are permanent, but could be scratched with sharp objects.
Printed Photo Panels Capture "Life's moments".
Utilizing the latest in Epson print technology & 20 years in the "creative field", we can perfectly encapsulate your most treasured moments with a resolution of up to 2400 x 1200 DPI* on a variety of media including Glass, Metal, Hardboard & more!