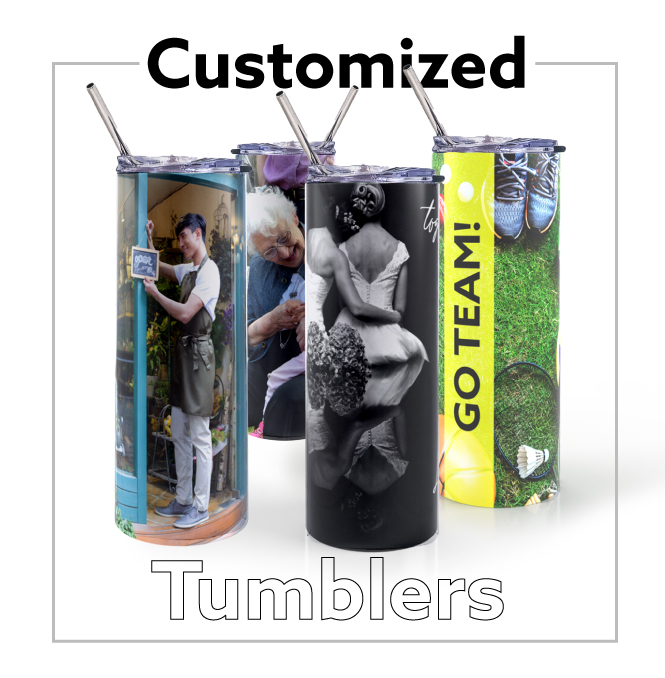 Personalized 20oz Tumbler for Sports Teams, Group Gatherings and More!
Personalized Tumblers for Events, Sports Teams, Groups Custom 20oz Skinny Tumblers/Stainless Steel Double Wall Insulated w/ lid and metal straw.
Have a small quantity order?
• Single Tumbler - $30
• 2-Pack Tumbler - $50
• 3-Pack Tumblers - $75
• 3-Pack Tumblers - $144
• 12-Pack Tumblers - $267
Looking for more? Contact us, let us know what you're looking for and we will provide you a competitive quote.
Personalized Tumblers Make Great Fundraising Items!
Looking for a fundraiser that is completely unique to your group or league? Our new custom 20oz tumbler fundraiser features high-quality double-wall stainless steel tumblers.
Personalized drink tumblers, water bottles, and a variety of other sublimatable items that can be customized with your group's theme, colors, logo or text. All you need to do is send us your artwork or photo and we can take care of the rest!
Looking for something else? check out our brochure for more customizable items, as an added option we can offer your product in our online store. This can help encourage purchases from out-of-town friends and family.
Personalized Tumblers for Your Next Event
Raise Money & Promote Team Spirit at the Same Time
Customized Tumblers for Any Occasion
High quality personalized Tumblers for fundraisers, events and school events. Showcase your school pride and team spirit with custom team tumblers . These customizable water bottles and spirit tumblers are a great way to build support for your local teams or local events. All our water bottles are reusable, BPA- Free stainless steel double-wall with closing lids that make them convenient to carry and always be ready to replenish your team's fighting spirit.
Other Tumbler Personalization Options
We can add custom text anywhere within your artwork, just let us know!
Add names, player numbers, team photos or anything else you may want added.
Personalized Business Tumblers
Personalized Business tumblers for your organization. Bulk ordering available or personalize with employees names or company mission statements. Perfect new employee on-boarding gifts. Add your logo or company images to your customized business tumblers
Personalized Birthday Tumblers
Personalized birthday tumblers perfect for someone's special day. Add their name, pets, favorite interests or photo of their fondest memories. Unique birthday gifts or for themed events that are both convenient and look great on the go!
Personalized Reunion Tumblers
Personalized reunion tumblers are a great way to make a lasting impression for your next gathering. All tumblers come with a closing lid with metal straw. Design with specific artwork, photos or family pictures these customized tumblers are the perfect item to add to your next event.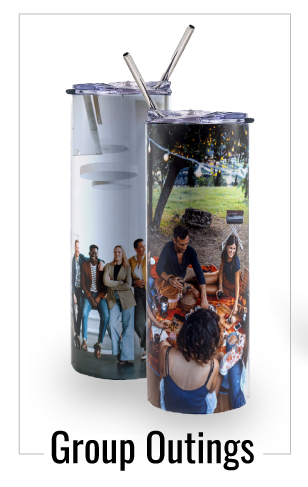 Personalized Group Outing Tumblers
Personalized group outing tumblers are a great idea for welcome packages for team building excursions, corporate escapes or any other event designed to bring people together. Customize your group outing tumblers with names, numbers or any other text or image.
Personalized Wedding Tumblers
Personalized Wedding tumblers as gifts or for rehearsal dinners. Make your special day extra special with customized couples wedding tumblers. Highest quality inks, materials and production ensures a truly special gift for all of your most memorable occasions.
Personalized Group Tumblers
Customized tumblers are great for small or large group activities. Create a sense of unity with a set of themed or personalized tumblers from Maize Ink. Wow your attendees with a unique gift that is not only convenient but looks great! Easy to clean and perfect for on-the-go.